Warning: this process is not for the faint at heart.
Just over a year ago I was challenged by a couple of my peers to document and share my blogging process. I had never thought to do so before and thought, "why not?"
So I did a brief version and published it on Google+:
Since then, my blogging process has undergone quite an evolution. While I've refined it significantly, I've also added a number of things to the workflow that have helped take my blog to the next level.
In this blog post I'm going to take you through every step from idea capture to publishing and sharing. I'll also be giving you every tool in my arsenal that I use along the way.
So buckle in– this is not going to be brief.
Idea Capture: Evernote

Since I'm the creative type, I need a quick and simple way to capture ideas as they come to me. Then I need a way to easily access those ideas when I have more time to build upon them.
For this idea capturing, I use Evernote.
When I have an idea for a blog post I immediately pull out Evernote wherever I am. I record the idea adding a potential headline as the title and maybe a sentence or two to fully capture the idea. I then tag it with "blog idea" and file it under one of three notebooks:
These are the only three blogs I write for regularly, although I contribute to a few others infrequently. If it's an idea for a guest post I just file it under dustn.tv.
I try to come back to Evernote at least once a day to keep ideas fresh in my mind. Revisiting them is crucial because the longer you let those ideas sit, the less likely they are to become a reality.
My recommendation is— however you decide to capture your ideas, make it dead simple for yourself. It has to be quick, easily accessible, and memorable. Make it a habit.
Blogging Tip: Have a system that makes capturing blog ideas dead simple for yourself.
Click To Tweet
Also, be sure to only use one system. Every idea gets captured in the same place. Having multiple places where you keep your ideas will just confuse you and make the job of bringing them to life harder.
One simple system is all you need.
Draft in Desk
Once it's time to start drafting my blog post I start a brand new document in my favorite app to write in— Desk by John Saddington.
It's a minimal, beautiful writing space where I can get rid of all distraction and just write.
I prefer to use night mode with Avenir Next as my font at medium size and a narrow column width. This, to me, is the epitome of beautiful writing experiences.
I will fully draft out my entire post, starting with a sort-of bulleted list of items that I want to hit. Then I will go back and tackle one point at a time until the entire draft is written.
Every blog post I write generally has the following structure:
Lead. This is the opening sentence to the blog post. It's crafted to put the reader in the exact frame of mind that I want them in when they begin reading.
Intro. This is where I introduce the problem I'm solving, a brief story of why I'm writing the article, or just a plain old intro to the subject matter.
Body. This is the meat and potatoes of my blog post.
Conclusion. Wrapping it all up and giving either a final note or a call to take action.
Question. I try to ask the reader a though-provoking or action-oriented question to spark conversation.
Sometimes the type of blog post I'm writing will deviate from this structure, but for the most part it's pretty consistent.
Topic research
Once I've got everything drafted out I'll then take some time to go do some topic research. I know, this is probably backwards for some people who are super organized and do all their research ahead of time. That's not how I operate.
I like to get all my own thoughts out first, exactly as I would explain it to the person it's meant for before seeing how others may have approached the same topic. I feel I learn more this way and instead of having my research dictate how/what I write, I can see how my own thought processes align with those of others.
If I find any relevant links or extras to add in based on the research, I go back and add them into the draft.
Finish blog draft
I'll go through my post one more time to add any relevant internal or external links where appropriate. While I'm doing this, I'm also adding formatting (bold, italics, h1, h2, etc.) and making place holders for any images I plan on inserting.
Which then leads me to the next step.
Create the Images
Once the blog draft is finalized, I then begin making all the images.
Usually I begin by creating the headline graphic (or hero image). This is the image that will show up as the featured image in all my social shares. From that I create 3 different versions of it according to my social image templates that I've shared previously.
This generally takes me anywhere from 10-20 minutes.
If there are screenshots involved, I go grab them one by one. I will take the first screenshot and create a template for the rest of the screenshots, making sure that they will all end up being the same exact size (if possible).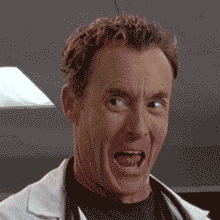 I also spend some time trying to find (or create) GIFs that help add a bit of moving color to the blog post when appropriate. You may notice that when I use GIFs they're often times an attempt to add humor.
When I create my images (using Photoshop) I always save them in the most optimized format possible. This means that I use the "Save for Web and Devices" option and then tweak them down make sure the file size is as small as I can get it without losing image quality.
I've previously written about optimizing images on Social Media Examiner, I highly recommend reading it if you haven't already.
I save all images in a new folder named after the blog post topic.
Once I've save the images, I then pull all of them into JPEGmini Lite. It is a Mac App that further optimizes the images (JPEGs only) using what I can only imagine is magic, reducing the file size even further without image quality loss.
Publish as Draft
When all the images are created and optimized, it's time to move the post into WordPress. Another thing I love about Desk, is that I can send the post directly to WordPress from it.
Through Desk I can mark the appropriate category and add the custom URL I want.
Once I've set the category and URL (and made sure it's marked 'Draft') I publish to WordPress as a draft.
I don't add the images before sending the draft to WordPress though. I've found that there can be some bugs in the process so I just wait until I get into WordPress to upload the images.
Finalize in WordPress
I immediately open up the post in WordPress and click on the Featured Image upload. From there I can upload all of the post images with one drag and drop from the folder I created.
This makes it easy to just select them and insert them one at a time as I go through the post replacing the image placeholders I've set up.
Analyze and Refine the Headline
Once the blog post is exactly where I want it, now it's time to ensure that the headline is as good as it possibly can be. Most people will judge whether or not your blog post is worth reading just based on that one element alone. So it must be good.
So to make sure I'm using the best headline possible, I go to CoSchedule's Blog Post Headline Analyzer.
Simply enter your headline and it will score it based on a number of different factors. It will break down all those factors for you and give you a score (0-100) as well as a grade on word balance. There are a total of 11 different factors to help you craft the perfect headline.
I won't use a headline that gets a score less than 60, unless I really know that it will work.
Sidenote: If you aren't using CoSchedule [referral link] yet, I'm guessing you have yet to put together an editorial calendar strategy. I highly recommend you do.
Optimize Social
At this point, the blog post is done. Now it's time to prep this baby for when it's published, starting with the social shares.
Thanks to Social Warfare, this workflow is very easy. I start by selecting the social media images— the general social media image and the Pinterest optimized image. Then I fill in the title, description and tweet inputs.
This is highly important to me because I know that the most important part of extending my reach is other people sharing the post. When other people share it I want to make sure I make it super easy for them to share the article in a way that attracts click-throughs and more shares.
As we like to say at Warfare Plugins, "get your posts shared the way you want them to be shared".
Schedule Shares
Thanks to CoSchedule (referral link), I can schedule my own social shares of the post. Firstly, I schedule the initial shares for the moment the blog post is published. Through CoSchedule I can do this for my:
But I'm not just sharing a headline and a link– I go in and edit each one of those shares slightly to fit the audience on each platform.
I've done extensive research about when and how often to reshare content after it's first published. With this in mind, I use a combination of CoSchedule and Buffer to schedule out about a month's worth of shares for the blog post.
That might seem like a lot to some people, but I'm not sharing the post every day.
Since I have a rough schedule of when I publish blog posts (thanks to my Editorial Calendar Strategy) I only reshare on slow, non-publishing days. That way the post has every chance to reach those who may not have seen the first shares.
Those reshares usually account for 50-70% of the total clicks and traffic to that blog post in its first 30 days. Definitely worth the effort.
Publish & Share
Now it's time to hit that beautiful blue button. The moment where I release my work into the wild. After hours of laborious writing, editing, visualizing and more editing, it's finally time to hit Publish.
To this day I still get a rush of excitement when I hit that button.
But once it's published, it's time to let the world know about it.
So I go straight to view the published version of the blog post, give it one last look and begin hitting the social share buttons that I didn't pre-schedule:
It takes me probably 2 minutes to share the Google+ version to my personal profile, because again I'm not just sharing a thoughtless link dump. I take this time because I understand the anatomy of an engaging Google+ post.
Once I share the Google+ post, I hit the Pin button and immediately hit the Buffer button from within the Pinterest box that pops up. That way I can queue up a later share for the post to another board. Once I've done that, I'll share to the most relevant board right away.
Once that's done…
I take a breath and maybe have a drink.
Conclusion
This process is definitely not for the faint at heart. But this is how I craft blog posts that get (on average) 500+ shares with the occasional 1k+ share post.
To me, blogging is an art form. And while I'm continually working to shave off time and make this process more efficient, sometimes you just need to take the time to create something that you're darned proud of.
My hat is off to bloggers who can just sit down, crank it out in under an hour and be done with it. But for me– this process works.
Is your blogging process anywhere near this extensive? You can leave a comment by clicking here.